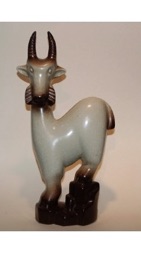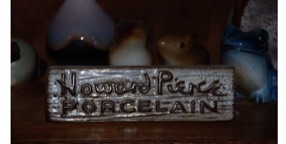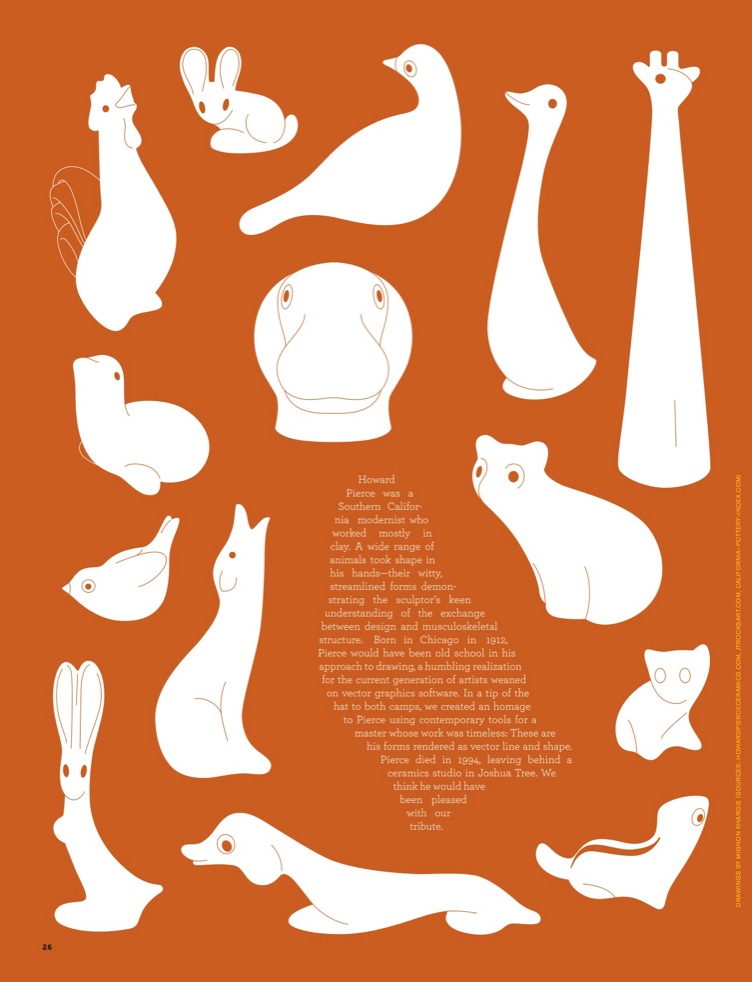 Drawing with permission from San Louie magazine

Howard had a sense of humor… One of his signatures…. 🙂
Howard Pierce Ceramics or Howard Pierce Porcelain was the creation of Howard Pierce in the 1930s and continued to his death in 1994. His main medium was porcelain (clay, single firing), although he also worked in concrete, plastic, plaster, brass, pewter, drawings, and anything else he found around the house. Art was his life.
It is not clear what we are doing with this site. Right now it is to post some of the pictures of Howard creations. It might turn into a place to exchange information about Howard. Or a place to buy his rare pieces. We have a limited goal of getting a list with pictures of many of the pieces he made.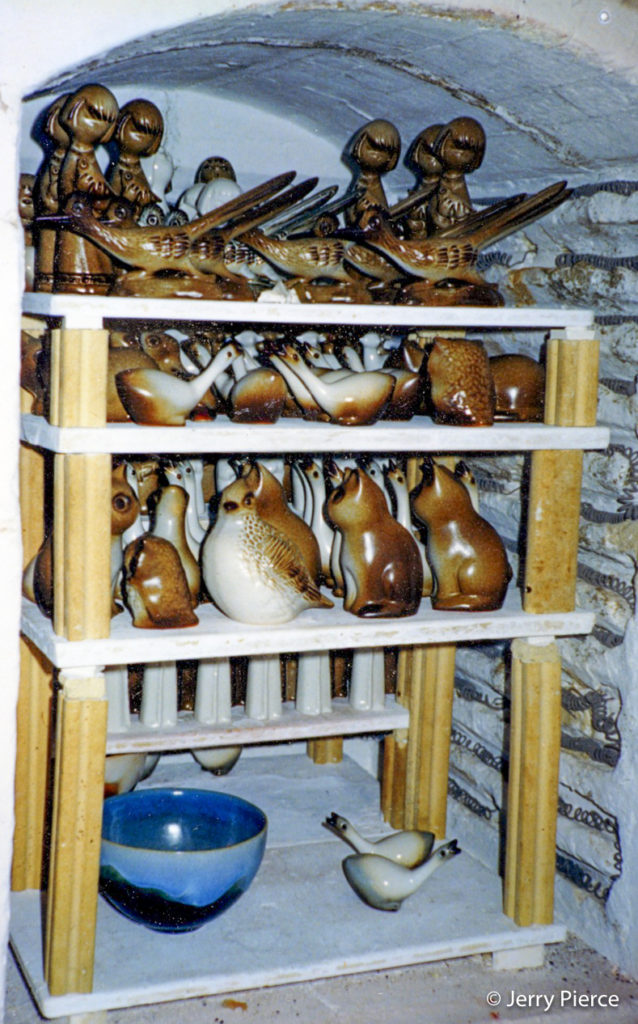 The following description is what Howard gave to visitors in the studio in 1992.
Howard died in 1994. Ellen (his wife) passed away in 2006.

Howard Pierce is the founder and artistic creator of a unique Southern California ceramics studio. Today his studio overlooks the town of Joshua Tree, California where Howard continues to produce original designs that have become his trademark for over 45 years.
Born in Chicago, Howard began his artistic training at the Art Institute of Chicago and the University of Illinois. He moved to Claremont, California in 1934, where he continued his education at Pomona College. He began producing ceramics in the late 1940's. He moved to Joshua Tree in 1968 to continue ceramic design and production. Many of Howard's pieces are now collectors items and Howard is prominent in many books on American Ceramics.
Howard personally handles all aspects of the ceramics—from original sculpture modeling, making of the molds, formulating the clay body and glazes, to the production and firing of the pieces. Each piece an original, hand-crafted American product. Howard continues to focus on porcelain, a high quality ceramic process which includes a single firing at 2150°F.
Since 1968 Howard has created a few larger concrete statues for permanent installations. Many of these creations surround his Joshua Tree home and others are located at public sites through out the high desert. Up to 12 feet high, these pieces hold prominent places in the community.
Now in partial retirement, Howard Pierce is still creating new designs. These figurines are available at his studio and selected businesses in the High Desert. The studio and small display room are open to visitors by appointment.
HOWARD PIERCE CERAMICS
 61175 Cougar Lane; Joshua Tree, CA 92252; Phone (619) 366 8128